Medline has developed a fleet of Medline trucks called MedTrans, which is the perfect service for any delivery that requires specific timing or needs special attention. Three space- and time-saving delivery options are available: Point-of-Use Service, Cart Service and Rack Service. We also offer an inventory management solution called MedStock and personal protection equipment (PPE) dispensers for disposable products.
Our services help healthcare facilities save time and money, allowing them to focus on what they do best: taking care of their patients.
Logistics Services


Our services help healthcare facilities save time and money, allowing them to focus on what they do best: taking care of their patients.
---
Certainty Programme
When an emergency strikes, like a pandemic or natural disaster, facilities need to bolster their inventory by purchasing and storing PPE and other critical supplies—which can lead to a variety of logistical challenges.
Our innovative Certainty Programme helps ensure facilities have the supplies they require to continue delivering the quality care patients need. Medline holds stock for the facilities, owns it, manage its rotation and makes sure it is available to be called off when needed, at a previously agreed-upon price—making it easier for healthcare professionals to keep working efficiently and confidently.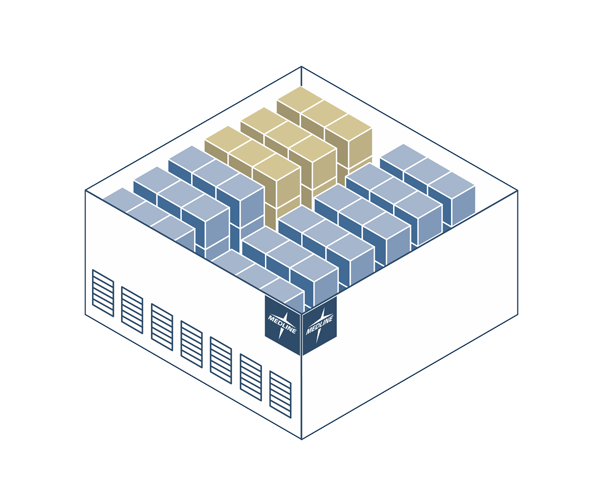 ---
MedStock: Inventory Management Solutions
MedStock is a handheld inventory management system that saves you time and money by automating three key parts of your operations:

Inventory
Track inventory levels and usage for every product in your facility, including both on-hand and on-order goods in the general warehouse, sterilisation areas and operating theatres. Scan the barcodes of products for simpler recount processes.

Purchasing
Create replenishment orders with just one step based on actual inventory levels and reorder points that you can define.

Cost centre allocation
This system involves easy barcode and scanner-based charge accounting for both patient and department cost centres.
VIDEO

Medline is proud to introduce MedStock: a handheld inventory management system.


---
Radio Frequency Identification (RFID) Technology
Radio frequency identification is the perfect service to guarantee the traceability of SPTs. The RFID tag is placed on each SPT and contains a unique ID to identify the specific pack being used, including item number, lot number and expiration date.
The signal from this ID can be picked up by a reader, which keeps track of inbound and outbound SPT movements and functions as real-time inventory control. This consumption information can be easily interfaced with MedStock for automatic replenishment and reporting purposes.
Through its automation, RFID offers you full product traceability and inventory tracking, more efficient purchasing processes and time savings.

Additional benefits of RFID include:
Easier consumption reporting and efficient purchasing
Precise analysis of the procedure cost per patient
Improved picking time and faster preparation for surgery
Increased staff satisfaction
Reduced human error
Cost savings.
VIDEO

Medline is proud to introduce RFID: a technology that tracks & traces inventory.


---
MedTrans Truck Fleet
The transportation of medical products is a serious matter. That's why Medline has developed MedTrans, its very own fleet of trucks. When using MedTrans, the main benefit for your team is the direct contact with a dedicated truck driver who has been specially trained to complete deliveries while meeting healthcare facilities' requirements.
Already available in Germany, France, the UK and Spain, our growing number of MedTrans customers shows the demand for and importance of tailor-made healthcare delivery services.

Receiving your products from a Medline driver guarantees:
Better control over delivery quality
A better understanding of your special needs in terms of hospital logistics (required special services, time slots, emergencies and so on).
Strengthen your satisfaction with your medical deliveries today with MedTrans.
Curious about our drivers? Meet Dietmar Van Rennings, MedTrans Driver since 2014.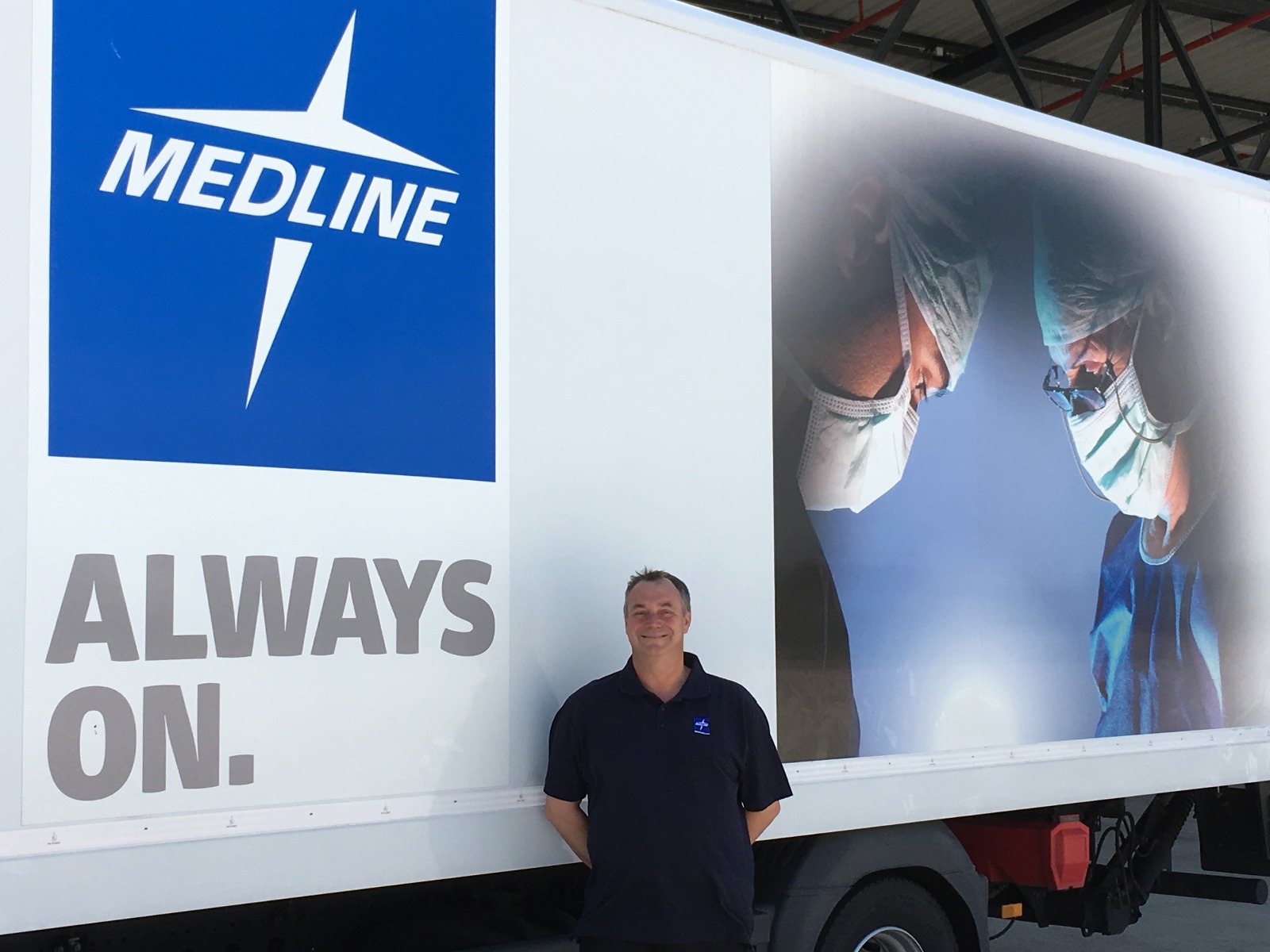 'After a few years of working in Medline's warehouse in Kleve, I started my transition to MedTrans Truck Driver in July 2014. Today my job is to deliver products to our customers in a personalised way following their specific requests. I truly enjoy my regular customer visits, which help build good relationships'.
---
Protective Apparel Dispenser
Medline's Protective Apparel Dispenser is a convenient solution for the storage and distribution of non-textile garments in healthcare centres. Our smart dispensing machines functions like a vending machine and provides you with the right product at the right time. Main features are:
Online management
24-Hours service
Modular, scalable design
Inventory visibility
Financial savings
Product mix
VIDEO

Discover our garment dispensers and all the benefits for your healthcare centres and teams.
---
Special Services
Medline offers different value-added services by utilising our own carrier MedTrans and our local transportation partners:
Cart Service: storing surgical products and packs on wheeled carts close to the operating theatre
Ward Delivery: delivering products inside the hospital on a ward level
Rack Service: unpacking products and placing them on racks directly in the operating theatre storage room
Waste Disposal: removing and disposing of packaging material
PalBox solution: delivering and storing SPT packs in pallet-sized cardboard boxes to ease and speed up product picking.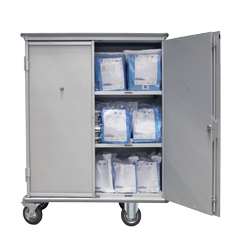 ---
Logistics Assessment
Medline has a team of Lean-certified logistics experts who can perform an on-site logistical assessment to help you streamline your internal supply chain. Our team will follow the products from the dock to the operating theatre to detail their flow through your facility. After the assessment, our team will suggest enhancements, such as product flow changes, a storeroom redesign or the implementation of added services.