Medline offers various solutions to help you reduce the rate of healthcare-acquired infections and elevate patient safety.
Infection Prevention
Protect your healthcare teams and
patients from infections both
in the operating theatre and
patient care units.
VAP Prevention
Ventilated Associated Pneumonia (VAP) is a primary management objective to infection control practitioners and a serious health risk to patients.
Ventilated Associated Pneumonia

VAP is one of the most common infections occurring in patients in ICU and hospital. VAP can be linked with increased duration of ventilation, ICU and hospital length of stay, significantly increased costs.
Ventilated patients in ICU are at the highest risk for infection and therefore require the most intensive and comprehensive care. To help you through, Medline offers a range of products - from protective personal equipment (apparel, exam gloves etc) to oral care.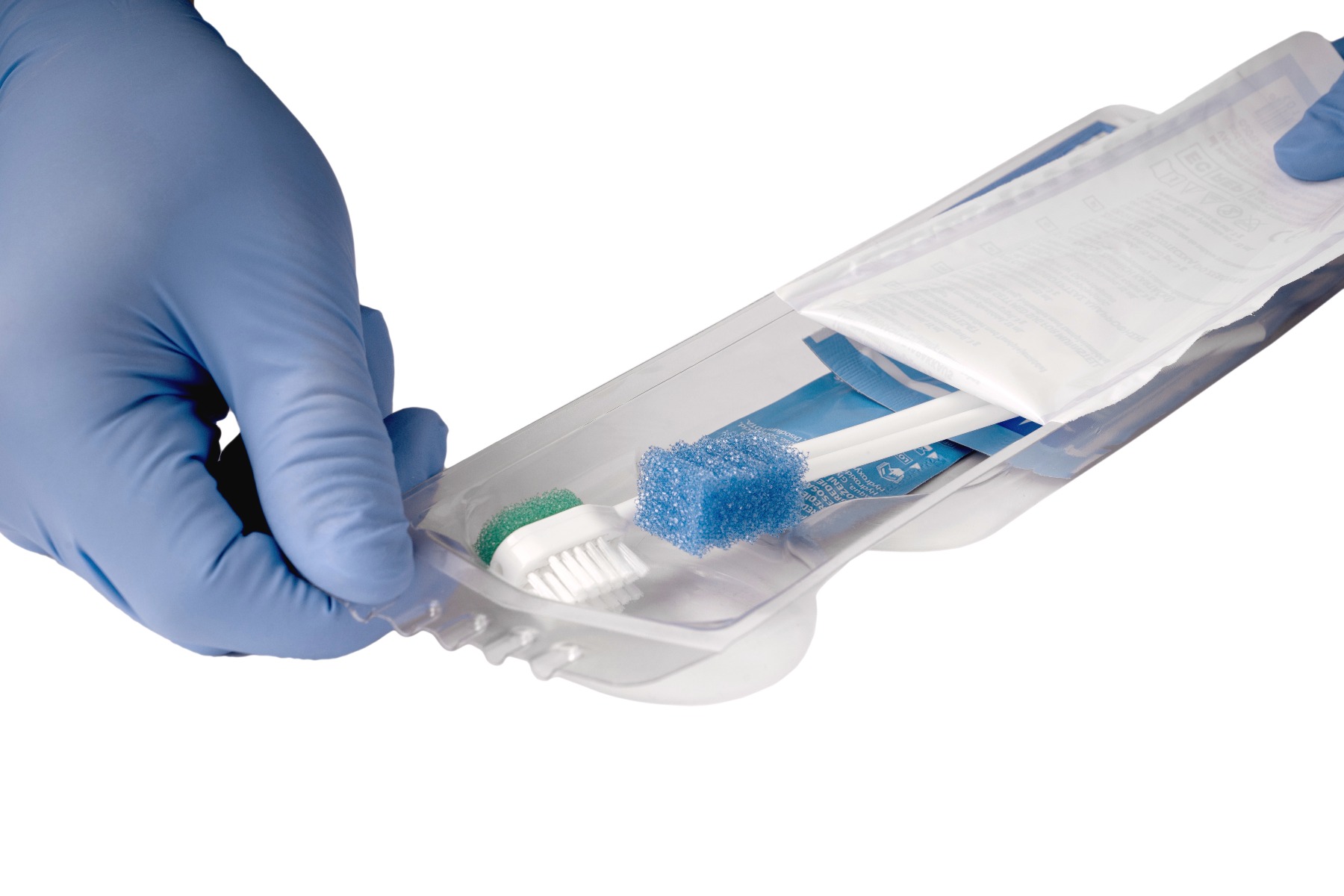 Oral care – recommended to help reduce the risk factors associated with VAP

Performing regular oral care on your ventilated patients remains an easy and important step in reducing the opportunities for a ventilated associated event to develop. In the fast-paced world of the Intensive Care Unit, it is easy to pass over something small like oral care when there is a patient coding next door. But while oral care may seem small, its effects are mighty. Review your current oral care protocols to ensure they include recommended practices such as mechanical debridement and cleansing with solution rinse.
Discover Medline Oral Care Kits

Medline Oral Care Kits are designed for the prevention of ventilator-associated pneumonia (VAP). They feature everything you need to perform oral care at the right time in the right quantity, and thus promote best practices in your facility. Different configurations are available with a comprehensive range of oral swab, toothbrush, suction brush, treated or untreated and rinse solutions.
VIDEO
Check how to use our kits!
Protective Apparel
Why are more hospitals and purchasing groups choosing Medline for their all-around protection?
We know you rely on disposable apparel to keep your staff protected and comfortable. For this reason, we use fine materials available for protection, offering a great level of comfort. We apply high quality standards to our products in our manufacturing facilities. Medline is ISO 13485-2012 certified. Medline has been manufacturing protective apparel for over 40 years
EU Directives to classify protective apparel
Directive 93/42/EEC: applies to medical devices and their accessories. Medical device means any instrument, apparatus, appliance, software, material or other article, whether used alone or in combination, including the software intended by its manufacturer. These products are Class I non-sterile as they are used to limit cross contamination.
Directive 89/686/EEC1: commonly referred to as PPE (Personal Protective Equipment), this text lays down the conditions governing its placing on the market and free movement within the community and the basic safety requirements which PPE must satisfy in order to ensure the health protection and safety of users
How to choose the right material ?
Spunbond Polypropylene
The standard fabric for basic protective apparel; formed by bonding fibers together to form a single layer of breathable, woven-like material. Its main advantages are economy and comfort.

Multi-Ply Material (SMS)
This fabric consists of inner layers of meltblown polypropylene sandwiched between outer layers of spunbond polypropylene. Strong, fluid-resistant and breathable, this multi-layer material provides an optimal mix of protection and comfort.

Polyethylene
This single layer of polyethylene film provides high barrier properties at a very attractive price. This film is ideal for situations when impervious properties are needed.

Prevention Plus
This impervious and breathable material consists of a hybrid film laminated between two layers of bi-component spunbond material. This fabric is ideal for long interventions when impervious protection is needed.

Hospital Respiratory Equipment
Medline offers both oxygen and aerosol therapy products, including: Medium, high and variable (Venturi) oxygen concentration masks, Oxygen nasal cannulas, Nebulisers, Aerosol and tracheotomy masks, Aerosol therapy kits with a mask or universal mouthpiece.
These products are available in a variety of adult and paediatric sizes and styles. All of the respiratory products supplied by Medline respiratory products are latex-free and designed with safety, comfort and effectiveness in mind. We apply high-quality standards to our products and in our manufacturing facility. The facility is EN ISO 13485:2012 certified.
Oxygen supplies
Respiratory supplies, like masks, nebulisers, cannulas, tubes and specialised kits, are types of acute and long-term oxygen therapy products and aerosol therapy products. These supplies help improve patient comfort and safety by making it easier to breathe and treating respiratory afflictions.
Oxygen therapy products increase the amount of oxygen in the blood by providing the patient with oxygen (often in gas form). This prevents hypoxemia, which can potentially cause irreversible damage to vital organs.¹
Oxygen can be delivered to the body through:
Facemasks

Nasal tubes or tubes in the windpipe.²
Aerosol therapy products comfortably provide efficient nebulisation. Nebulisation is the delivery of a drug directly into the airways through a cloud or mist. An inhaler or nebuliser can be used in aerosol therapy.3 With so many methods of application for these two therapies, it is important to know when to use which products.
Oxygen masks
An oxygen mask is placed over the nose and mouth to transfer oxygen into the lungs when the body is not able to get enough oxygen on its own. Oxygen administration is routine for many emergency room, ICU and surgical patients. And it can be used for acute and long-term care. Many patients suffering from the following conditions use oxygen:
Chronic obstructive pulmonary disease (COPD)
Pneumonia
Asthma
Underdeveloped lungs in new-borns
Heart failure

Cystic fibrosis
Sleep apnea
Lung disease
Trauma to the respiratory system.(4)
A patient's doctor determines the best use frequency and oxygen concentration. These factores important criteria in mask selection. Depending on oxygen needs, a medium or high concentration mask (also called a reservoir mask) can be selected. Other important factors to consider include patient and staff safety and patient comfort.
First of all, to avoid contamination and infection risks and lower cleaning and sterilisation costs, it is recommended to use disposable oxygen masks. Secondly, considering the high prevalence of latex allergies amongst healthcare workers (an estimated 8 to 12 per cent) and the general population (an estimated 1 to 6 per cent),(5) it is vital that oxygen masks are latex-free. Finally, despite oxygen therapy's many benefits, patients do not always wear the mask as often as they should.
This is sometimes due to comfort and concern over physical appearance.(6) To ease this burden, it is essential that the mask is as comfortable as possible and includes adjustable straps. A transparent colourcan make the mask a bit less claustrophobic and also allows the medical staff to evaluate face colour and vital signs.
Taking COPD as an example, the benefits of oxygen therapy are astounding:
Easier breathing
Increased survival in some cases
Reduced complications and less negative symptoms
Improved quality of life in terms of energy, exercise, sex, travel and social life.(7)
Nasal cannula and oxygen tubes
For patients who are stable and can breathe on their own but still require respiratory help, i.e. small amounts of supplemental oxygen, nasal cannulas can be used. A nasal cannula is a tube placed under the nose with two prongs that rest in the nostrils. These prongs supply low levels of oxygen. The other end of the cannula attaches to oxygen tubing to connect it to the oxygen source. Nasal cannulas are the most common way to deliver oxygen to a patient. They can be used in acute-care settings and to treat asthma, COPD, cystic fibrosis, pneumonia, sleep apnoea and underdeveloped lungs in new-borns.(8)
For patients with chronic, but stable, respiratory issues, the cannula lets them receive oxygen while eating, drinking and talking. Cannulas are less intrusive and obtrusive, which can make the patient feel less claustrophobic and more empowered to take part in normal daily activities.(9) They also reduce the risk of carbon dioxide rebreathing.(10) One drawback of nasal cannulas is chafing or dry nasal passages, which can cause nosebleeds. Usually, this resolves itself on its own,(11) but ointments are also available to ease these side effects.(12)
Patient comfort and safety are also very important when choosing a cannula. For full mobility, the cannula should be worn around the ears, and the two nasal prongs should be soft. This gives the wearer higher comfort and less risk of chafing. Latex-free, disposable products are also key. Nasal cannulas should be cleaned weekly, and the cannulas and the tubing should be changed every two to six months (depending on use frequency) and after any illness.(13)
Aerosol masks
Like oxygen masks, aerosol masks also fit over the nose and mouth. But these types of masks are used in combination with aerosol therapy. 'Aerosol therapy has revolutionised the treatment of several respiratory diseases including obstructive airway diseases'. This therapy delivers the drug directly into the lower airways in an aerosolised form. Aerosol therapy uses lower doses with a higher concentration. Therefore, it has side effects and provides a more rapid response to the medicine. In addition, it is rapid, targeted to the pulmonary system, painless and relatively convenient.
Aerosol therapy can be used to treat asthma, COPD, cystic fibrosis, chest colds, the flu and pneumonia. Drugs like vaccines, insulin, antibiotics and painkillers can also be administered with aerosol therapy.
Aerosol Therapy

Asthma
COPD
Cystic Fibrosis
Chest colds
Pneumonia

Aerosol Treatment

Vaccines
Insulin
Antibioptics
Painkillers
Metered dose inhalers, dry powder inhalers and nebulisers are the main devices used to provide this therapy, with the drug being administered through a mouthpiece or a mask. When masks are used, for example during surgery or for continuous aerosol therapy, it is very important that they are disposable, latex-free, comfortable, adjustable and also clear. This is for the same reasons as mentioned above for oxygen therapy.
References
(1) Dr. Virendra S. (2011). Supplemental oxygen therapy: Important considerations in oral and maxillofacial surgery, 2(1), 10-14. Doi 10.4103/0975-5950.85846
(2) National Heart, Lung, and Blood Institute. (n.d.).Oxygen therapy. Retrieved on October 17, 2018, from https://www.nhlbi.nih.gov
(3) Khilnani G.C. and Banga Amit. (2007). Aerosol Therapy. Retrieved on October 17, 2018, from http://medind.nic.in
(4) H ealth Line. (n.d.). Oxygen Therapy. Retrieved on October 17, 2018, from https://www.healthline.com
(5) Center for Disease Control and Prevention. (2017). Latex Allergy. Retrieved on October 17, 2018, from https://www.cdc.gov
(6) Leader Deborah. (January 2018). The Benefits of Oxygen Therapy. Retrieved on October 17, 2018, from https://www.verywellhealth.com
(7) i bid.
(8) Weatherspoon Deborah, PhD, RN. (January 2017). What are nasal cannulas and face masks? Retrieved on October 17, 2018, from https://www.healthline.com
(9)Thompson Ann E. (2011). Nasal cannula. Retrieved on October 17, 2018, https://www.sciencedirect.com
(10) Kelly Carol. (2011). When should a nasal cannula be used to deliver oxygen? Retrieved on October 17, 2018, from https://www.nursingtimes.net
(11) ibid.
(12) Weatherspoon Deborah, PhD, RN. (January 2017). What are nasal cannulas and face masks? Retrieved on October 17, 2018, from https://www.healthline.com
(13) Ridl Scott. (February 2015). Customer questions: How often should I change my Oxygen Cannula? Retrieved on October 17, 2018, from https://www.oxygenconcentratorstore.com
Facemasks
Medline has developed product innovations by adopting a partnership approach. This includes working with health professionals and getting to know their needs to provide appropriate solutions.
The vital protection your clinicians deserve
All Medline surgical and procedure masks are latex-free and conform to the European standards of barrier protection: EN14683:2005 Type II or Type IIR.
Bacterial filtration efficiency (BFE) - All Medline surgical and procedure masks have bacterial filtration efficiencies exceeding 98 percent.

Full selection of fluid-resistant masks and respirators - One source for all the masks your clinicians use every day.
The breathability your clinicians prefer
Medline masks provide the enhanced comfort your clinicians need for extended procedures.
Air circulates in both directions – While filtering harmful bacteria, our masks allow for easy air flow, so the wearer stays cool and comfortable.

Less distractions – Clinicians can forget they are wearing these comfortable masks and focus on patient care.
Innovative packaging to simplify mask selection
With Medline's packaging, your staff can instantly identify many important mask features.