Medline helps health care providers to organize processes in the OR efficiently, so the focus can be where it should be: on the patient.
Safety & Efficiency
Discover our solutions for more
safety and efficiency in
the Operating Theater
Click on the tabs below to discover our Solutions to help you streamlining your processes in the Operating Theatre and in your storage area:
QuickSuite® OR Table Kit
Medline's QuickSuite® OR Table Kits contain an assortment of disposable components used before and after a surgical procedure to rapidly set up and clean up the OR table.
The Sahara Absorbent OR Table Sheet is a great way to improve both patient comfort during a surgical procedure but also protect the OR table with its impervious layer. The Sahara sheet can be purchased both as a single item or as part of one of our various OR Table Kits.
Advance Your Operating Room

Promote Safety – Protects the patient skin and helps reduce cross contamination.
Improve Efficiency – Helps reduce Operating Room turnover time between surgeries.
Reduce Costs – Helps reduce the associated costs and time for the maintenance of reusable linens.
VIDEO
Leran how to use QuickSuite
---
Sahara Absorbent OR Table Sheet Features
Core polymer technology rapidly wicks moisture away, maintaining skin integrity

Measures 102x229 cm or 102x152 cm for full OR table coverage

Quilted for smooth surface

Disposable design creates low risk for harboring bacteria

Radiolucent

Sahara Grippy is ideal for surgical procedures that require a tilted position
Quicksuite® OR Table kits include:
Sahara OR Table Sheet

Draw/Lift sheet

Arm-board covers

Headboard cover
OR Necessities
Gold Standard items, like needle counters, transfer trays, scalpel holders, S.T.O.P.-flags supports initiatives from organizations, like World Health Organization (WHO), Centers for Disease Control and Prevention (CDC) or nurse associations, as EORNA*. Gold Standard products have a design which make best-practice techniques more intuitive.
Safety Deserves Attention
It is proven due to studies that the time-out verification using a surgical safety checklist recommended by the WHO will decrease surgical complications. The Medline S.T.O.P.-Flag will be used for the time-out immediately before starting the procedure.
Also important is the prevention of sharp injuries in the hospital. According to a presentation available from CDC, 68% of needle sticks are preventable¹. In the O.R. cuts/needle sticks occur in as many as 15% of the procedures, up to 16% of injuries occur while passing sharps.
---
The European Directive 2010/32/EU sets the minimum standards for preventing injuries to healthcare workers caused by sharps instruments².
Gold standard products have innovative safety features that promote:
Correct-site surgery

Sharps safety

Compliance with European patient safety initiatives and European regulations

Gold colour stands out among the typical blue and green draping products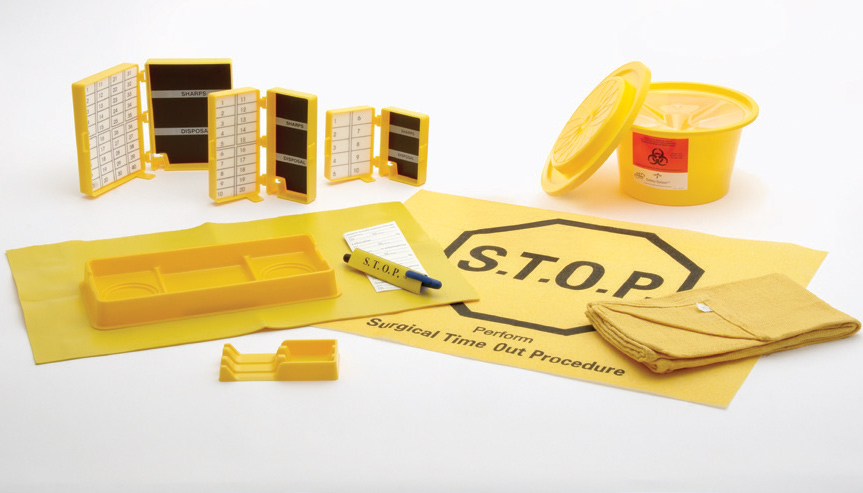 ---
Empower Packaging System
The purpose of surgical procedure packs is to bring convenience to your world. Yet every blue pack looks almost identical to every other pack – resulting in needless confusion and costly mistakes.
Wrong packs are pulled more often than you might think - causing the extra work and expense of pulling separate sterile items. Or, worse yet, discarding the entire wrong pack and replacing it with the correct one.
Recognising these problems, Medline set out to eliminate pack confusion. The result: Medline's EMPOWER Packaging System – an entirely new and streamlined way of looking at packs. You can customise your packaging system by selecting your own colors and description for your packs.
Eliminate Pack Confusion with The Science Of Intuitive Design
Medline designers, together with our clinical team, spent hundreds of hours in hospitals, observing and interviewing central supply managers, OR directors, nurses, scrub techs and more.
Then we applied the principles of intuitive visual design to create an entirely new approach to packs: Medline's EMPOWER Packaging System.
This user-centred system can be used to improve the ease, efficiency and safety of your surgical procedure packs.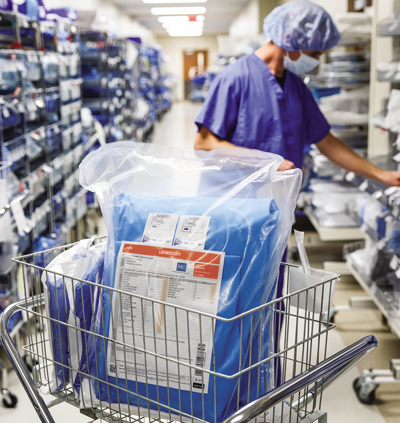 Med-Pack: Surgical Pack Management
Med-Pack is a real-time interactive program that will simplify the lives of everyone who touches surgical packs. Managing your surgical packs is a whole lot easier with this real-time interactive program.
Managing your surgical packs is about to get a whole lot easier and a lot more powerful. Med-Pack uses iViews that let you access information in ways you never could before.
View pictures of all the components in every pack you are using.

Know when your requested changes arrive into inventory.

Train new employees by viewing assembly pictures for every pack.

Identify all latex components and view latex-free alternatives.

Quickly find information on standardization, safety and eco-friendly components.