Advanced Skincare Can Help Improve Outcomes
The basics
Skincare basics include cleaning, moisturising and protecting the skin. Historically, this has been done with soap, water and inexpensive, easy-to-obtain products containing petrolatum or mineral oil.
But soap strips and dries out the skin, making it more vulnerable to damage. Today, liquid cleansers containing surfactants are more commonly used and are not only gentler to the epidermis, but are often pH-balanced as well. Moisturisers seal in the body's hydration and are particularly helpful in areas with low temperatures and humidity, which can dry out the skin. The technical term for this is excessive transepidermal water loss.
When incontinence or wound exudate is an issue, skin barriers and protectants should also be used. These products should be stocked next to your advanced wound care products and incontinence products. They provide a physical barrier between the skin and harmful bodily fluids, and offer protection from breakdown. The most common types of barrier products used within healthcare are silicone-based barrier products, film-forming polymers and cyanoacrylates.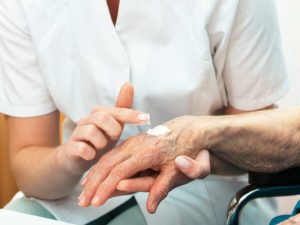 Bath time

Look for a variety of different systems that are hypoallergenic, alcohol- and lanolin free.
They should also have pH-balanced ingredients that do not leave a heavy film on the skin.
Gone are the days of bed baths using bath basins and cold, dirty water— an inconvenient and time-consuming method that is uncomfortable for patients and creates an infection control issue as well.
A complete bed or bedside bath can be given safely, inexpensively and comfortably with specially formulated systems consisting of moist wipes for each body segment. Such systems are easy for the caregiver and avoid messes. Additionally, patients prefer them because they actually get clean and feel refreshed without getting cold or experiencing a loss of dignity. Some of these advanced products even have additives that leave a protective barrier or moisturiser on the skin, saving the caregiver the extra step of applying it separately.
Four-in-one wipes perform quadruple duty while saving time, money and the frustration of handling and stocking multiple skincare products. Consider replacing your cleansers with one product that cleans, moisturises, protects and nourishes in one simple step. There are even antimicrobial versions of these cleansers that work for high bioburden areas. This alternative to conventional bed baths can provide a quick, gentle and time-saving solution.
Advances in Skincare
The ultimate goal of skincare and wound care product research is to explore new ways to help prevent and treat skin problems. Loss of skin integrity is often what drives patients and caregivers to seek help. Only through the most advanced science can we reverse the suffering from poor skin function.
The latest skincare products are more advanced than surfactant-based cleansers; instead, they use high-tech ingredients called phospholipids to cleanse the skin.
Phospholipids are derived from vegetable oils and offer the gentlest form of cleansing available. These products clean the skin without stripping precious natural oils from vulnerable tissue. These oil-based phospholipids offer the new advancements in skincare, and you should be providing its benefits to every at-risk patient.
What should you look for when investigating new products for your patients?
Surfactant-free cleansers that use phospholipid technology to clean. These are often all-in-one or 4-in-1 products that cleanse, moisturise, protect and nourish.
State-of-the-art moisturisers that contain oils, such as canola oil, olive oil (also known as Olea europaea), sunflower oil, avocado oil, grape seed oil, corn oil, jojoba oil and borage oil, vitamins, proteins, carbohydrates and hyaluronic acid. These ingredients can replace lost epidermal lipids and help heal the skin.
Moisturisers and protectants that contain laser-treated amino acids like L-cysteine, L-Proline, glycine, and L-taurine (these are more bioavailable and can easily penetrate the skin without irritation) and antioxidants that protect against breakdown caused by oxidation or 'rusting' of the skin. The skin is made up primarily of collagen, a protein. Lost proteins can be replenished through the use of products that contain amino acids. Antioxidants protect the skin from environmental damage and help keep it naturally healthy.
High-tech barriers such as those containing complex silicones like cetyl dimethicone, cyclomethicone, cyclopentasiloxane, dimethicone copolymer, dimethicone copolyol, dimethiconol and divinyldimethicone.
The vital role of skincare
Just as we need good nutrition to survive, our skin are requires nourishment to flourish. Products containing specially treated amino acids, antioxidants and vitamins nourish and strengthen the skin, providing protection against skin breakdown, tears and wounds. These products not only improve the skin's appearance and texture, but also assist in building collagen and helping to develop the skin's resistance to damage.
Protecting and reducing damage to the skin are key. Skin is the largest organ and should always be a pivotal point of your care.
---
Suggested reading:
1. Fleck CA and McCord D. The Dawn of Advanced Skin Care. Extended Care Product News – ISSN: 0895-2906 – Volume 95 – Issue 5 – September 2004 – Pages: 32, 34-39.
2. Fleck CA and McCord D. Care and Feeding of the Body's Largest Organ. Extended Care Product News – ISSN: 0895-2906 – Volume 95 – Issue 4 – September 2004 – Pages: 28-31.