Medline offers various solutions to help you reduce the rate of healthcare-acquired infections and elevate patient safety.
Infection Prevention
Protect your healthcare teams and
patients from infections both
in the operating theatre and
patient care units.
Protective Apparel
Why are more hospitals and purchasing groups choosing Medline for their all-around protection?
We know you rely on disposable apparel to keep your staff protected and comfortable. For this reason, we use fine materials available for protection, offering a great level of comfort. We apply high quality standards to our products in our manufacturing facilities. Medline is ISO 13485-2012 certified. Medline has been manufacturing protective apparel for over 40 years
EU Directives to classify protective apparel
Directive 93/42/EEC: applies to medical devices and their accessories. Medical device means any instrument, apparatus, appliance, software, material or other article, whether used alone or in combination, including the software intended by its manufacturer. These products are Class I non-sterile as they are used to limit cross contamination.
Directive 89/686/EEC1: commonly referred to as PPE (Personal Protective Equipment), this text lays down the conditions governing its placing on the market and free movement within the community and the basic safety requirements which PPE must satisfy in order to ensure the health protection and safety of users.
How to choose the right material
Spunbond Polypropylene
The standard fabric for basic protective apparel; formed by bonding fibers together to form a single layer of breathable, woven-like material. Its main advantages are economy and comfort.

Multi-Ply Material (SMS)
This fabric consists of inner layers of meltblown polypropylene sandwiched between outer layers of spunbond polypropylene. Strong, fluid-resistant and breathable, this multi-layer material provides an optimal mix of protection and comfort.

Polyethylene
This single layer of polyethylene film provides high barrier properties at a very attractive price. This film is ideal for situations when impervious properties are needed.

Prevention Plus
This impervious and breathable material consists of a hybrid film laminated between two layers of bi-component spunbond material. This fabric is ideal for long interventions when impervious protection is needed.

Medline Single-Use Scrub Suits
Medline offers a wide range of medical scrub suits, all disposable and intended for nursing and research purposes. Medline's disposable scrub suits are manufactured from breathable SMS material.
The products are intended to be used by healthcare professionals in hospitals and clinics to maintain a high level of hygiene and contribute to infection control.
Medline's scrub suit portfolio offers two ranges of scrub suits: the Advanced range and the Soft range, both designed in collaboration with healthcare professionals. Medline's medical scrub suits feature a bell shape design for a perfect fit, three convenient pockets on the shirt, a V-neck and adjustable waist ties.
---
In addition to Protective Apparel, our Facemasks and our VAP Prevention solutions help to reduce the risks of infection and cross-contaminations in your facility.
Facemasks
Medline has developed product innovations by adopting a partnership approach. This includes working with health professionals and getting to know their needs to provide appropriate solutions.
The vital protection your clinicians deserve
All Medline surgical and procedure masks are latex-free and conform to the European standards of barrier protection: EN14683:2005 Type II or Type IIR.
Bacterial filtration efficiency (BFE) - All Medline surgical and procedure masks have bacterial filtration efficiencies exceeding 98 percent.

Full selection of fluid-resistant masks and respirators - One source for all the masks your clinicians use every day.
The breathability your clinicians prefer
Medline masks provide the enhanced comfort your clinicians need for extended procedures.
Air circulates in both directions – While filtering harmful bacteria, our masks allow for easy air flow, so the wearer stays cool and comfortable.

Less distractions – Clinicians can forget they are wearing these comfortable masks and focus on patient care.
Innovative packaging to simplify mask selection
With Medline's packaging, your staff can instantly identify many important mask features.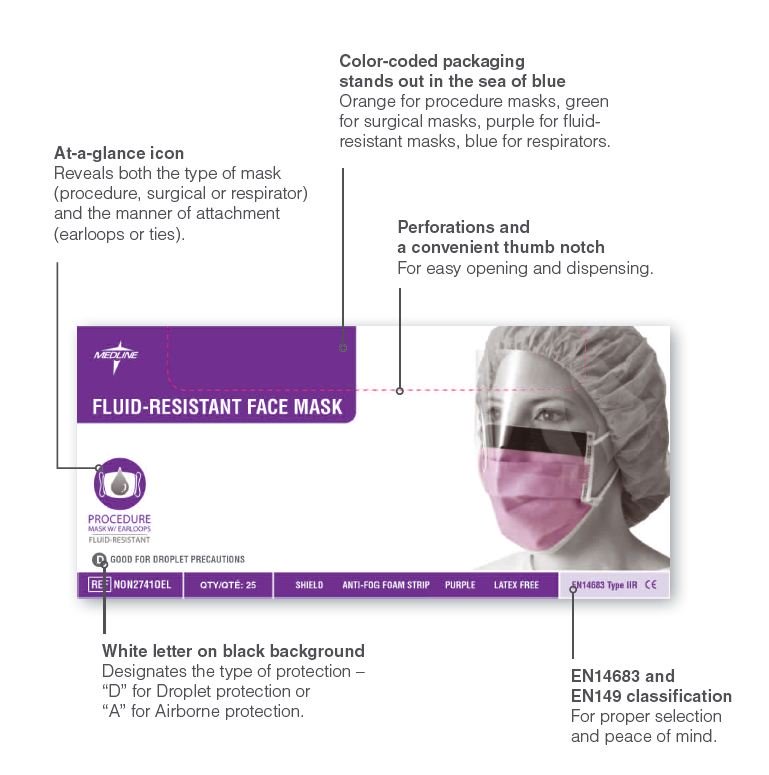 VAP Prevention
Ventilated Associated Pneumonia (VAP) is a primary management objective to infection control practitioners and a serious health risk to patients.
Ventilated Associated Pneumonia


VAP is one of the most common infections occurring in patients in ICU and hospital. VAP can be linked with increased duration of ventilation, ICU and hospital length of stay, significantly increased costs.
Ventilated patients in ICU are at the highest risk for infection and therefore require the most intensive and comprehensive care. To help you through, Medline offers a range of products - from protective personal equipment (apparel, exam gloves etc) to oral care.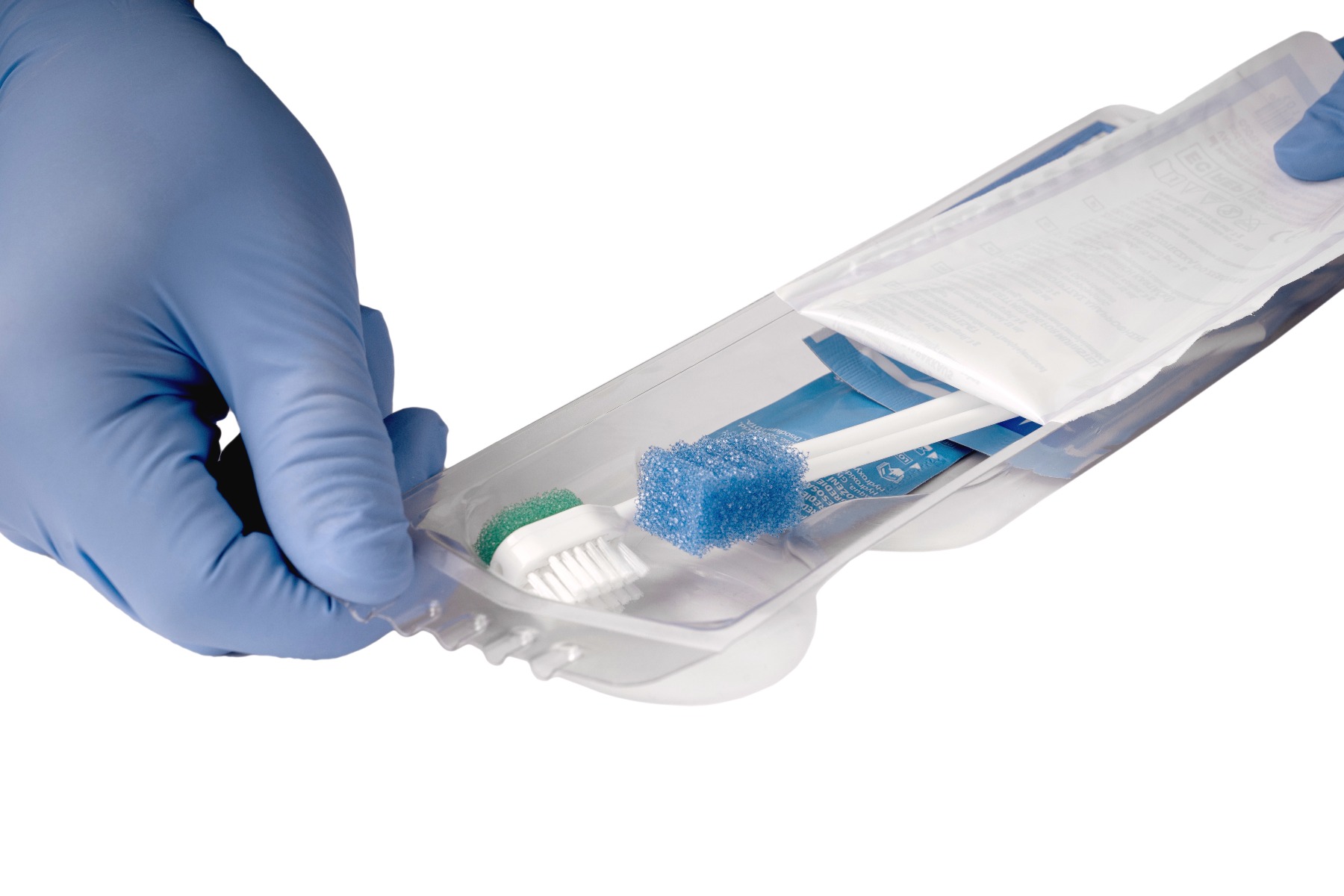 Oral care – recommended to help reduce the risk factors associated with VAP
Performing regular oral care on your ventilated patients remains an easy and important step in reducing the opportunities for a ventilated associated event to develop. In the fast-paced world of the Intensive Care Unit, it is easy to pass over something small like oral care when there is a patient coding next door. But while oral care may seem small, its effects are mighty. Review your current oral care protocols to ensure they include recommended practices such as mechanical debridement and cleansing with solution rinse.
Discover Medline Oral Care Kits

Medline Oral Care Kits are designed for the prevention of ventilator-associated pneumonia (VAP). They feature everything you need to perform oral care at the right time in the right quantity, and thus promote best practices in your facility. Different configurations are available with a comprehensive range of oral swab, toothbrush, suction brush, treated or untreated and rinse solutions.
VIDEO
Check how to use our kits!