Today, hospitals are confronted with many challenges: cost cutting, efficiency increase or shortage of healthcare workers. Medline's Sterile Procedure Trays (SPTs) help you target these challenges.
Efficient healthcare distribution not only delivers supplies, it results in cost-effective, high-quality patient care. Medline is experienced in the supply chain requirements of individual healthcare settings and best practices throughout the industry. By offering customised distribution programmes, quality products and decades of experience, Medline reduces costs, improves productivity and enhances the quality of patient care.
The success of our programmes is shown with proven, measurable results. We are large enough to meet your needs, yet small enough to offer creative approaches, flexibility and quick responses to solve the issues you face every day.
Medline's surgical procedure packs
Medline's sterile equipment help you
face current challenges by applying
efficiency principles to the management
of the surgical area.


Meeting today's needs of healthcare providers
Today, there is increased pressure on hospital management to improve efficiency and reduce costs while minimising harm to the environment. Low prices alone are no longer enough. You need:
Products designed to make your process leaner
Outstanding service
High quality
Environmentally friendly options
Designed to make surgical processes leaner; one item instead of dozens
Medline's Sterile Procedure Trays come complete with everything you need for a procedure. It is compact, ready to use and can be reordered with just one item number, instead of dozens.

Sterile procedure trays reduce set-up time, leaving more time for treating patients. With fewer items to open, there is also a reduced risk of contamination.
---
EFFICIENCY
Touchpoints are the contact your staff has with surgical components. If each component is 'touched' 10 times (see below), a surgical procedure with 47 components, for example, will involve 470 touchpoints. Over the course of a year, this quickly adds up to a substantial amount of staff time. SPTs are ordered, stocked and tracked as one item, drastically reducing the number of touchpoints.

---
EXPERIENCE
As a worldwide leader in custom procedure trays, we are committed to quality. Medline has been providing surgical packs to facilities like yours for over 20 years, and we produce thousands of packs every day.
COMMITMENT
The importance of quality cannot be overstated. In fact, we have zero tolerance for errors. We have over 300 highly trained quality assurance specialists directing all quality-related functions. The team includes chemists, microbiologists, statisticians, nurses and engineers.
ACCURACY
Count on your packs containing exactly what you ordered and how you ordered it, each and every time. That is, with:
The right components

Correct placement within the pack.
Our accuracy comes from state-of-the-art IT systems that help us plan production, assemble sets and manage inventory. Procedure trays are assembled in dedicated clean rooms and undergo a validated ethylene oxide (EtO) sterilisation process.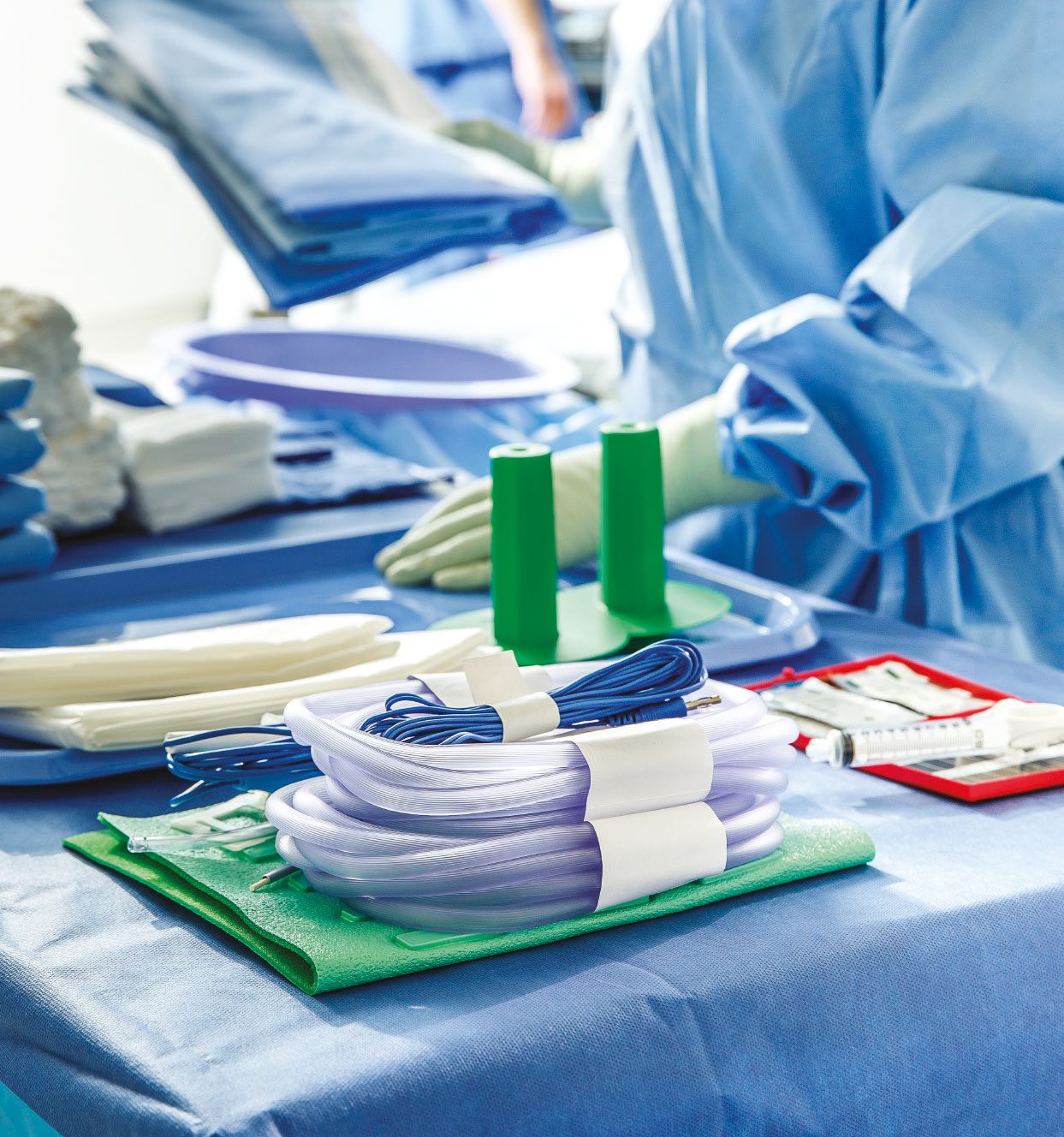 Medical Device Directive 93/42/EEC
Medline's SPTs produced in Châteaubriant, France, and Bánovce, Slovakia, conform to article 12 of the Medical Device Directive 93/42/EEC concerning procedure packs. This means Medline International has verified that all components in an SPT can be safely and properly used together. Additionally, this ensures that Medline has packaged and sterilised all components in the way mandated by the original component manufacturer. By following article 12, you can be assured of the quality and safety of our SPTs.
---
OUR RANGE OF PACKS

STANDARD PACKS
For commonly performed procedures, Medline offers standard surgical packs.
These SPTs can help you save money, streamline your inventory, improve efficiency and create standard practices in your facility.

CORE PACKS
In addition, we offer Core Packs, which allow you to design your surgical packs using a selected list of alternative components that are both clinically effective and cost efficient, without compromising the custom pack performance you expect from Medline.

CUSTOMISED PACKS
It is also possible to design your own customised SPTs for less common procedures or to meet the specific requirements of your facility. Medline's wide range of component options enables you to create a pack suited to your needs.
Comprehensive Supply Chain
With Medline's SPTs, you win on quality, service and price because, unlike other providers, we control the entire supply chain. We can leverage economies of scale, innovate operational performance and eliminate third-party costs, and pass those savings directly on to you.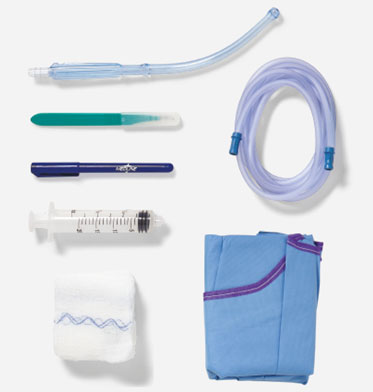 Medline offers more than 4,500 components for your packs.
More than 1,300 Medline-branded Q+ components (excellent quality, high service level and competitive pricing).
Around 700 components (high volume with short lead time and competitive pricing).
You can add components from other brands too.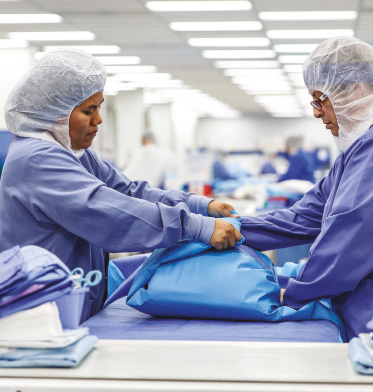 More than 125,000 customised procedure trays every day, worldwide.
9 manufacturing facilities worldwide.
2 manufacturing facilities in Europe (in France and Slovakia).
5 million kits produced per year in Europe.
---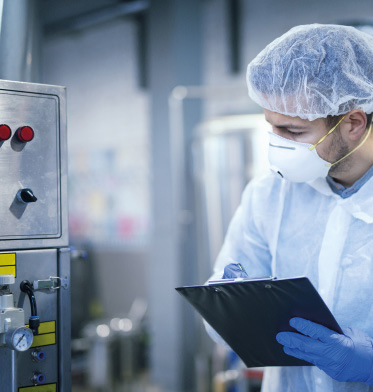 Medline takes responsibility for the sterilisation of your packs and guarantees their sterility. We do so by auditing our sterilisation centres and validating sterilisation cycles, according to established standards. Our packs are sterilised in a chamber with ethylene oxide (EtO), and afterwards, aeration time is carefully determined in order to remove EtO residue.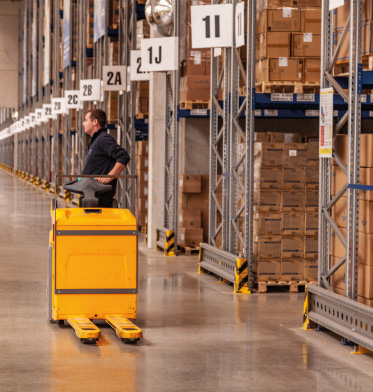 To minimise shipping lead times and reduce freight costs, Medline warehousing facilities are strategically located in close proximity to our customers. In Europe, we have seven warehouse and distribution centres in Germany, France, Ireland, the United Kingdom, mainland Spain and the Canary Islands.
---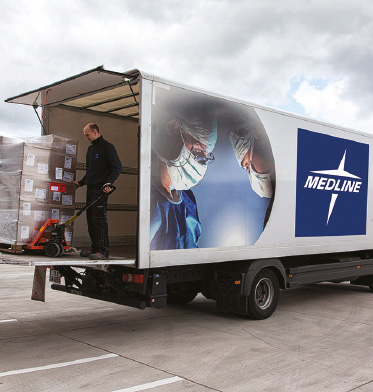 Medline has developed a fleet of Medline trucks called MedTrans, which is the perfect service for any delivery that requires specific timing or needs special attention. MedTrans staff possess product and medical knowledge, and drivers are trained to go the extra mile for you.
Expertise
OUTSTANDING CONSULTING SERVICES
We are a team of dedicated people who understand your world. What sets Medline apart from the competition is our focus on you—the customer. Our team of clinical, product and logistics experts is ready to help solve your operating theatre challenges and recommend the right products and solutions for your needs.
CLINICAL ANALYSIS
Our highly trained and experienced clinicians bring valuable medical experience. They analyse your drapes, gowns and other SPT components, and offer suggestions for improvement and standardisation. Throughout the implementation of your new SPTs, our Medline clinical nurses and product specialists are there to help and address concerns you may have.
COMMON PROGRAMME BENEFITS
We can help you:
Improve preference card maintenance

Track supply protocols amongst physicians

Increase percentage of complete case carts

Streamline safety and infection control practices

Create optimal yearly inventory levels

Improve working conditions and increase staff




satisfaction.
---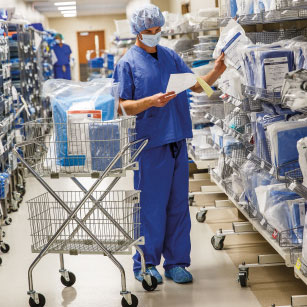 Our logistics experts work with your clinical and materials management teams, analyse your current systems and develop plans for improving:
Space utilisation
Storage systems and accessories
Inventory consignment
In addition, we can perform an on-site logistical assessment to improve your day-to-day supply handling, storeroom design and staff alignment.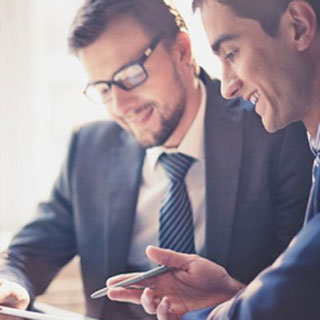 We evaluate the financial impact of our plans on your budget.
Our supply management consultants then offer you multiple savings options; you decide which are most appropriate for your organisation.
---
ONGOING COMMUNICATION
We regularly communicate with all our customers to ensure they're completely satisfied. This frequent contact helps us understand each unique facility and anticipate our customers' needs.
Collaborative steps in developing your customised SPT programme

Responsibility
Focus on the environment and ethical supply chains.
Our recycling rate has evolved significantly over the past years, with a recycling percentage between

88%

and

92%

.
100% of waste produced by the plant is recovered, as non-recycled waste is converted into energy by the solid recovered fuel process (used in a cement plant, for example).
New recycling methods have been implemented in production areas, making it possible to simplify the number of bins and thus increase the good practices of our employees.
100% of the pallets are recovered through reuse and recycling.
---
WASTE REDUCTION
Instead of dozens of individually wrapped items, your complete custom procedure tray comes in just one package. This means you'll generate less waste and reduce your disposal costs.
Greensmart™ Programme
A variety of earth-friendly pack components are available with your Medline SPTs. Medline's Greensmart™ is a full line of operating theatre products that are environmentally friendly (green) and good for your business (smart).
At Medline, we continually look for ways to reduce, reuse and recycle, and we know you share our concern for the environment. The Greensmart™ Programme includes only high-quality, affordable products. We evaluated our top-selling pack components and developed smart options that conserve energy in manufacturing, contain recyclable materials and contribute less waste to landfills.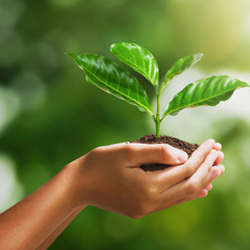 ---
LABOUR AND HUMAN RIGHTS
WRAP Certification
Medline's SPTs manufactured in Châteaubriant, France, come from a WRAP-certified facility. Promoting and respecting labour and human rights in our supply chain is part of Medline's corporate social responsibility agenda. More detailed descriptions of WRAP's 12 Principles are available on their website: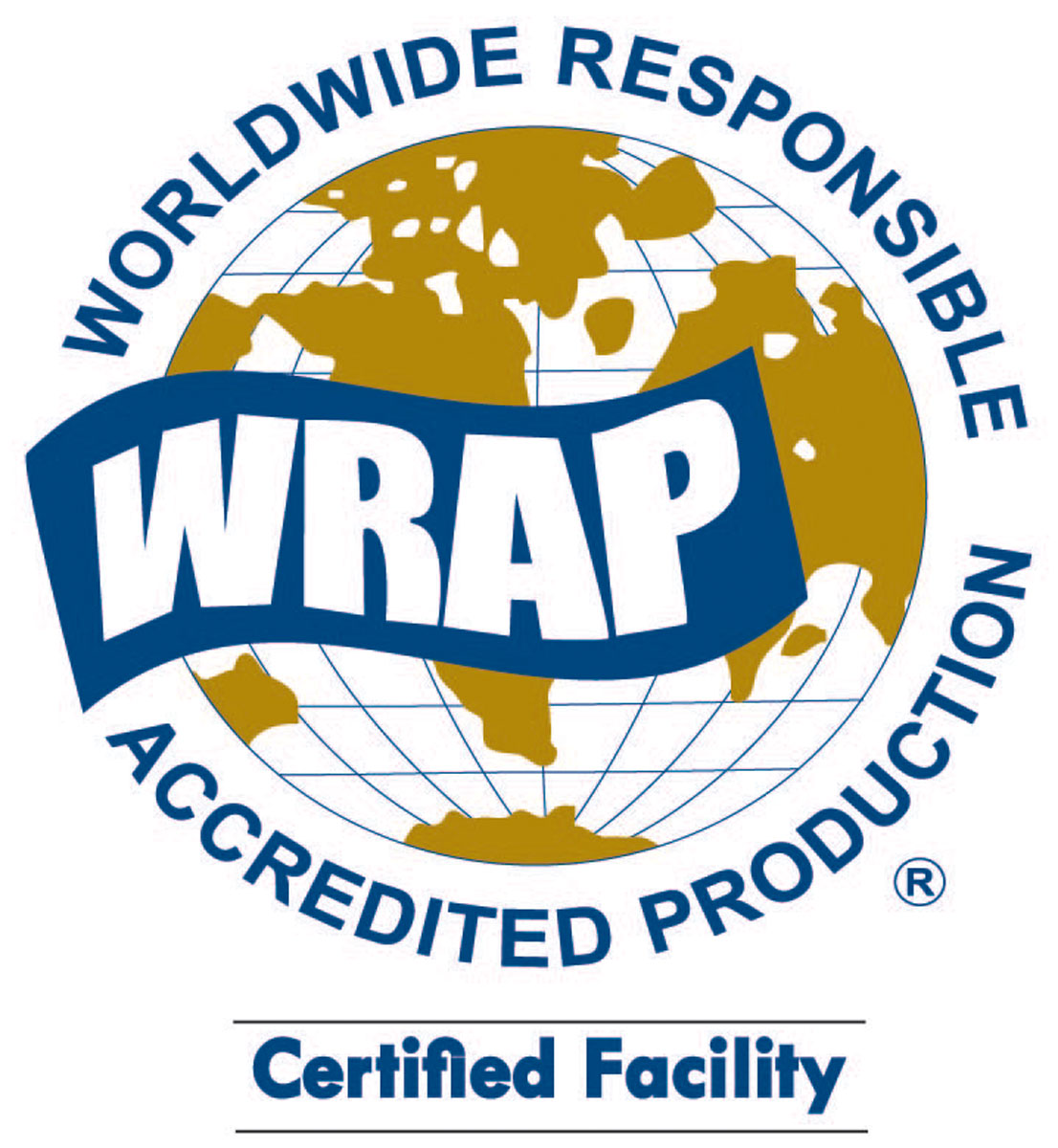 Additional Services
MED-PACK: THE INNOVATIVE ONLINE TOOL FOR SPT MANAGEMENT
Med-Pack provides you with information that is necessary, in order to manage your customised packs—anytime, anywhere. This convenient online tool was created to help simplify pack management, cut costs in the operating theatre, improve productivity and ensure better patient/staff safety.
Med-Pack can help you:
See every component in every pack, so you'll always know that the items inside are the components you ordered.
Control pack inventory, including pack changes and add-ons
Prevent unauthorised pack substitutions
Track the history of your pack changes
Know where packs are in the production process
See alerts when inventory levels are lower or higher than your forecast
Identify latex components and latex-free alternatives
Find information on standardisation, eco-friendly choices and more.
And best of all, as a Medline partner, Med-Pack technology is yours to use at no extra cost.
---
EMPOWER PACKAGING PROGRAMME
Eliminate pack confusion with the science of intuitive design.
Wrong packs are pulled more often than you might think, causing the extra work and expense of pulling separate sterile items. Or, worse yet, discarding an entire wrong pack and replacing it with the correct one.
Easy-to-read, colour-coded packs increase the speed and efficiency of stocking and picking, and help your staff avoid picking the wrong packs. Therefore, Empower Packaging can help reduce your costs and waste.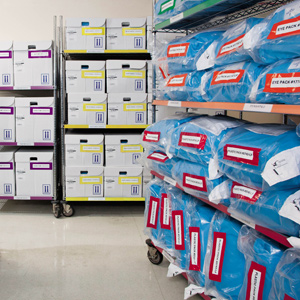 ---
PACK REVIEW PROGRAMME
During our annual pack review service, Medline experts thoroughly review all your surgical packs to make them more useful and user-friendly. We want you to be 100 per cent confident that the products you are using are meeting your needs and keeping pace with any procedure changes or surgical team preferences.
Our pack review programme also offers you the opportunity to:
Improve your efficiency by removing unnecessary components
Substitute brand-name products with Medline Q+ or CORE products, saving you money
Add environmentally friendly products
Add Gold Standard products that help improve sharps safety and reduce the risk of surgical mistakes.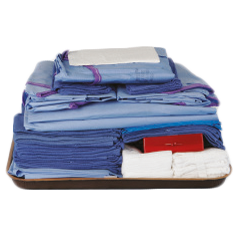 ---
RADIO FREQUENCY IDENTIFICATION (RFID)
Medline is proud to be one of the first companies to introduce RFID technology to surgical packs. RFID is the perfect service to guarantee the traceability of your SPTs. The RFID tag is placed on each SPT and contains a unique ID to identify the specific pack being used, including item number, lot number and expiration date. This technology keeps track of inbound and outbound SPT movements and functions as real-time inventory control.
RFID offers numerous benefits:
More efficient purchasing processes

Improved picking time and faster preparation for surgery

Precise analysis of the procedure cost per patient

Increased staff satisfaction

Reduced human error

Cost savings.
Virtual Facilities Tour
Come and discover the production of Medline surgical packs as if you were there in person!
The virtual tour of our sites in Châteaubriant (France) and Bánovce (Slovakia) offers you a unique look behind the scenes of the production of SPT packs. Walk through the various areas with us, such as warehousing, production, sterilisation, packaging and transport, all from the comfort of your home or office.
The virtual tour can be led in English, French, German, Spanish, Italian or Dutch and accompanied by your Medline account manager, as well as colleagues from the division and production sites. We will be happy to detail the topics that you find particularly interesting, and you can ask your questions at any time during the 'visit'.
CURIOUS?
Contact your Medline account manager to book a space, or fill out the contact form here:
Virtual Facilities Tour Teaser
Watch our virtual visit teaser to get an idea of what this tour will be like!