Falls Prevention Programme
Falls Intervention & Risk Management
Some patients are at risk of falling. The challenge is identifying at-risk patients and keeping them safe, and on their feet. Medline has developed a solution for just that and offers a wide spectrum of quality products and a unique falls management programme to help drive best practices and reduce patient falls.
Strengthen your falls management with smart solutions designed to help elevate patient safety and improve patient care. From falls risk recognition to safety essentials, we have everything you need to empower your team.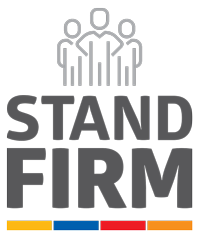 ---

Is the number of falls-related deaths in EU per year (people aged 65 and older).¹

Falls are common than both strokes and heart attacks, and their consequences can be serious.²

83% of all inpatient falls in the UK occur in acute-care settings.³

77% of all inpatients falls occur with patients 65 years or older.

13,800 hip-fracture-related deaths occur per year in the UK.

83% of all inpatient falls in the UK occur in acute-care settings.³
---
Medline's Stand FIRM Programme
Our Stand FIRM Programme
Are you doing everything you can to protect your patients? The right products are critical to falls protection. But it's a complex issue that also demands additional support. That is why we have developed **Stand FIRM (Falls Intervention and Risk Management).**
Our Products
Medline Europe currently offers a selective portfolio of products designed to address specific risk factors for falls. Our product offering includes an exclusive range of yellow falls prevention products developed to help you easily introduce visual cueing protocols at your hospital to help reduce the number of patient falls. Products can be mixed and matched to provide the best falls management plan for each patient.
Beyond products
Products are an important part of any falls prevention programme, but we know that products alone will not prevent all falls. That is why Stand FIRM incorporates a number of practical tools and resources to enhance your facility's existing falls prevention efforts. Best of all, our collaborative approach allows us to help you tailor the programme to best suit your hospital's specific needs.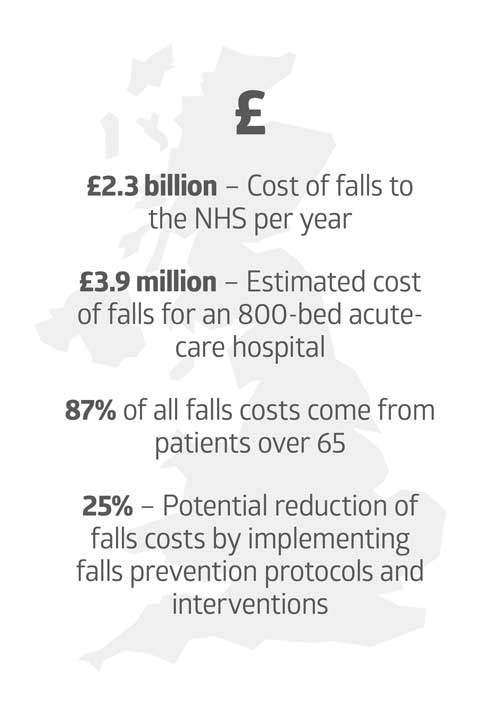 ---
Q&A
Q. Why aren't falls products enough to help protect patients from falls?
A. Products are a complement to the foundation of any falls management programme. They are essential in creating a strong clinical programme that has been proven to help keep patients safe.
Q. We already have a falls management programme. Why change?
A. Stand FIRM was designed to complement and work alongside your existing programme. We want to empower your staff with meaningful products and practical tools in order to provide the highest level of falls management care and create lasting change.
Q. How does Medline continue to support us with Stand FIRM?
A. Stand FIRM is meant to be a long-term collaboration between your facility and Medline. We are continually working to enhance our product offering, collect relevant knowledge and facilitate the sharing of best practices.
---
Beyond Our Products
As part of our Stand FIRM programme, we offer much more than products. We know that no one product or intervention is the silver bullet in preventing all falls, so we have built a programme to support the most important part of any falls management initiative - your team.




Long-Term Collaboration
Educational Materials
Knowledge Base
Sharing of Best Practice
Our Medline clinical specialists are available to support you as you strengthen your falls management programme. From high-level evaluations to effective implementation of our products.
Keep everyone engaged in the fight against falls by providing simple and positive educational materials that promote falls prevention guidelines.
Medline's in-depth articles about falls prevention topics provide relevant tools and resources for your staff.
Facilitating the sharing of best practices, Medline organises regional round tables for our customers who are involved in falls prevention initiatives.
---
References:
¹ Falls among Older Adults in the EU-28: Key Facts from the Available Statistics, report, EuroSafe, [www.eurosafe.eu.com](http://www.eurosafe.eu.com/uploads/inline-files/POLICY%20BRIEFING%2020_Facts%20on%20falls%20in%20older%20adults%20in%20EU.pdf "Falls among older adults in the EU").
² Active Ageing through Preventing Falls: 'Falls Prevention Is Everyone's Business' - Joint Declaration, report, 2015, [www.eunaapa.org](http://www.eunaapa.org/wp-content/uploads/2015/09/Joint-Declaration_Sept-2015.pdf "Active ageing through preventing falls: "Falls prevention is everyone's business"").
³ The Incidence and Costs of Inpatient Falls in Hospitals July 2017, report, NHS Improvement, [https://improvement.nhs.uk](https://improvement.nhs.uk/documents/1471/Falls_report_July2017.v2.pdf "The incidence and costs of inpatient falls in hospitals").
4. ibid.
5.' Facts about Falls,' Profound, [http://profound.eu.com](http://profound.eu.com/wp-content/uploads/2014/01/AgeUK-ID201144-Falls-Awareness-Facts-About-Falls-FINAL.pdf "Facts about Falls").
6. 'Hip Fracture in Adults NICE Quality Standard,' National Institute for Health Care Excellence, [https://www.nice.org.uk](https://www.nice.org.uk/guidance/QS16/documents/draft-quality-standard "Hip fracture in adults NICE quality standard").
---