Medline's Senior CSR Manager Takes on Impactful Leadership role at MedTech Europe
8 th December 2021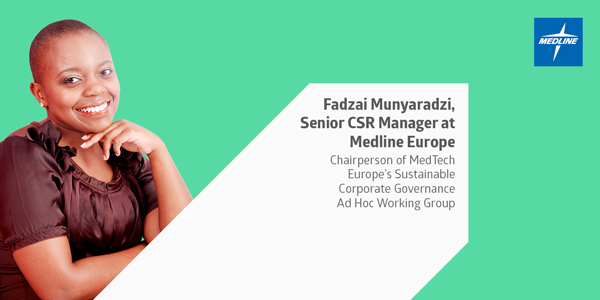 Fadzai Munyaradzi, Medline's Senior CSR Manager, has been appointed inaugural Chairperson of MedTech Europe's Sustainable Corporate Governance Ad Hoc Working Group. MedTech Europe is the representative industry trade association for the medical technology industry.
The working group chaired by Fadzai is responsible for supporting member companies to anticipate, understand and comply with SCG/ESG (environmental, social, governance) legislation enacted by the EU Commission and by individual member states. The working group also facilitates thought leadership and best practices in SCG/ESG, going beyond mere regulatory compliance to position member companies to be truly ethical and socially responsible.
Medline has a broad understanding of corporate social responsibility, believing that it spans social, environmental and economic issues. As a player in the medical device industry, we acknowledge that we are in a position to make a positive contribution to global sustainability. We are confident that Fadzai's leadership role within MedTech Europe will be mutually beneficial for both Medline and the industry as a whole.
Learn more about our CSR approach here.