Medline Launches Infrared Thermometers
18 th November 2020
Medline Europe launched a new infrared forehead thermometer—TH5001N—earlier this year, as accurate temperature monitoring is a particularly pivotal process for healthcare professionals and their patients more than ever.
Temperature is a vital sign that is indicative of several forms of illnesses and while there are many ways to measure this, some types of thermometers are no longer in use in parts of the world. For example, mercury-based devices have been banned in EU.
Historically, Medline has always adapted to what its customers need and developing a timely and game-changing product is a necessary response. It is, therefore, a priority for Medline to help contribute to European healthcare systems via its customers (healthcare facilities) in a value-added and innovative way.
An infrared intervention
The pandemic correlates with a peaked global demand for safe, time-efficient and accurate temperature-measuring devices. The World Health Organization (WHO) and the European Centre for Disease Prevention and Control (ECDC) both support evidence that suggests COVID-19 spreads through direct, indirect (via contaminated objects and surfaces) or close contact with infected people—by way of secretions from the mouth and nose.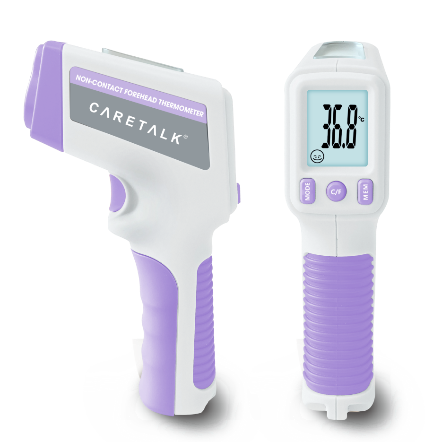 Based on this, Medline's infrared thermometer offers users key benefits in various environments, clinical or otherwise, including:
Non-contact technology: Unlike with traditional thermometers, there is no need to make physical contact with any surface on the body of a person being tested. In addition, this approach helps reduce the likelihood of cross-contamination.
Complete portability and flexibility: This powerful technology is lightweight, mobile and small enough to stow away in equally small spaces. In addition to being compact, this device is durable and can measure moving targets.
Readily available and easy-to-interpret results, thanks to a digital LCD screen: Measurement data can be read easily thanks to adequately sized text on the screen that appears about one second after measuring someone's temperature.
Increased user friendliness: It is as simple as pointing, clicking and reading. Instructions for resetting the device are also easy to understand.
Medline's TH5001N, when used correctly and in combination with common and effective personal protective equipment (PPE), will help to strengthen defences against the spread of bacteria and viruses
---