Medline International France Secures A++ Label in CAHPP Green Index
10 th November 2023
For more than 50 years, Medline has worked strategically to ensure its employees and customers, and the communities in which it operates, are served as best as possible. This includes a unified approach to environmental responsibility and social equality, which are driven by a strong governance structure. That sustained commitment to sustainability is evident through corporate actions, including sustainable product innovation, extensive ethical supply chain processes, significant investment in renewable energy and giving back to communities in need.
For 2023, Medline International France SAS (MIF) has been evaluated as having achieved an A++ rating in sustainability, in line with criteria set by the Central Purchasing of Public and Private Hospitals (CAHPP) Green Index—an associate of the European Union of Private Hospitals (UEHP).
The Green Index, created in 2012, evaluates and identifies the responsible purchasing policy of suppliers to the CAHPP, within 13 sectors of activity, including biomedical, hygiene and disinfection, and medical devices. To secure this label, suppliers have to score in the top percentile. Within the medical devices market, MIF received an overall score of 94/100. The A++ rating is the highest possible rating that referenced contracted suppliers can receive, with a B rating being the lowest.
This evaluation centres on the core principles of sustainable development, as outlined by the ISO 26000 standard and the broader spectrum of societal responsibility issues. The process is divided into four phases, including registration, data collection/updating, algorithm-enabled analysis and manual data communication, as well as communication of the results. The results are given to suppliers, alongside a list of recommended actions, with the ultimate goal to ensure the Green Index meets the quality, safety and carbon requirements of client organisations.
Achieving this recognition and rating validates the significant strides Medline Europe has taken towards enhancing its ESG credentials. This accomplishment not only demonstrates a strategic commitment to sustainable practices, but it also highlights the efficacy of investments in positioning Medline Europe as an exemplary model of environmental, social and corporate governance (ESG) in the healthcare sector.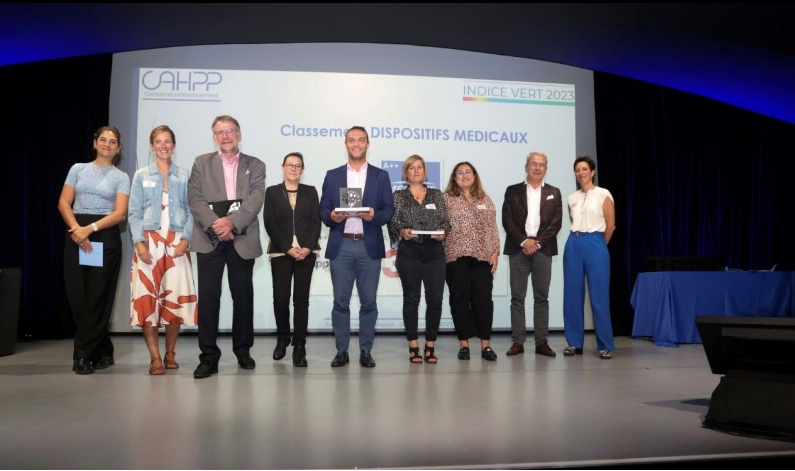 About Medline Europe
Medline Europe is an international manufacturer and global distributor of medical and surgical devices for use in a range of healthcare institutions along the continuum of care. It also provides the clinical and supply chain resources required for long-term financial viability in delivering high-quality care. With top-tier market share in more than a dozen major medical product categories, and over 1,000 employees throughout 16 countries, Medline Europe has built a reputation of consistently investing in the needs of its customer base and the healthcare industry at large. Its overall mission is to positively impact the market and industry through innovative, customisable and readily available products, services and solutions. Medline Europe is headquartered in Arnhem, the Netherlands. Learn more about Medline Europe at www.medline.eu.