Medline Awarded Breakthrough Healthcare Product of the Year
7 th December 2022
At the 15th edition of the National Association for Coordination of Material Resources (ANECORM) national congress, Medline's Essential Skin-to-Skin C-section Drape with Pouch and Fenestrated Incise Film was awarded the most relevant single-use healthcare technology product of 2022.
Our new specialised drape, which had a strong candidacy in the consumable products category, was nominated alongside products by two other companies. However, after a detailed evaluation and voting by the ANECORM technical committee, the Essential Skin-to-Skin C-section Drape was declared the winning product.
After two years of development, through this drape, Medline now enables healthcare professionals to apply the highly recommended skin-to-skin technique in a safe way. The C-section drape has been very well received by both healthcare professionals and patients alike, as it facilitates the first skin-to-skin contact, which is an invaluable bonding moment between mother and baby. This technique involves placing the newborn face down in direct contact with the mother's abdomen or chest, immediately after birth.
The benefits of skin-to-skin contact immediately after birth include:
It favours physiological adaptation to extra-uterine life during the newborn's sensitive period with an improvement in cerebral organisation and in the motor system.
It promotes oxygenation in the newborn, facilitating thermal regulation and reducing energy expenditure.
A smooth transition of the newborn facilitates early recognition of the mother's scent and visual contact, which strengthens the emotional bond.
It also increases the likelihood of successful breastfeeding.
The mother's contact with her baby and breastfeeding result in an increase in oxytocin and β-endorphins, reducing maternal stress by improving uterine contractility and colostrum ejection.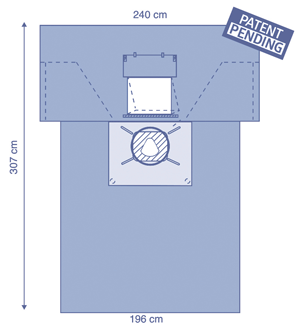 Medline is grateful for the recognition of this key maternity product and associated efforts to facilitate improved healthcare delivery and outcome.
Medline's surgical drapes, including the Essential Skin-to-Skin C-section Drape with Pouch and Fenestrated Incise Film, are developed, tested and trusted by operating theater professionals. Our surgical drapes offer the best available features and are fully compliant with the EN13795 standard.