Medline and MedEnvision: New EMEA Partnership to Improve Efficiency for Our Customers through Customised Surgical Packs
8 th April 2022
Medline is pleased to announce our new partnership with MedEnvision to offer our customers in EMEA optimised solutions for increased efficiency in orthopaedic activities. As part of this partnership, Medline is especially proud to be able to offer the Efficient SurgerY (ESY) Solution, which is an operating theatre efficiency model that supports orthopaedic surgical teams in standardising all aspects of the operating theatre workflow. MedEnvision's solutions lead to reduced procedural costs, improved working ergonomics, optimised infection control and minimised surgical trauma, benefitting the patient, healthcare providers and the hospital.
Medline produces more than 1 million orthopaedic packs every year representing roughly 4,000 SKUs specially designed to meet clinicians' expectations. With more than 20 years of experience as a worldwide leader in custom procedure trays, we are committed to quality and continuous improvement. And to support clinicians in the evolution of surgical techniques, Medline continuously adapts its component offering. With this philosophy in mind, building a partnership with an innovative company like MedEnvision was the obvious next step. The EsySuits in custom procedures packs are exclusively available through Medline.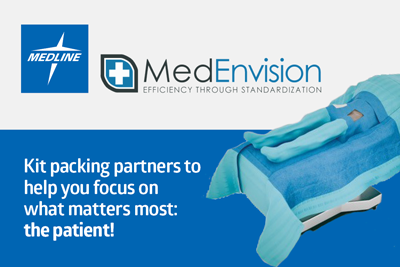 With this collaboration, clinicians now have access to customised packs with an increased focus on safety and efficiency, giving them more time for what matters the most: the patient.
About MedEnvision
MedEnvision is a fast-growing, innovative company that focusses on developing products and solutions that lead to efficiency optimisation in the operating theatre. Their mission is to support surgeons, their teams and hospitals worldwide with efficiency optimisation, meaningful staff reallocation, improved staff ergonomics and infection control. MedEnvision has been nominated in three consecutive editions (2019, 2020 and 2021) of the Deloitte Technology Fast50 Belgium.