S400 Portable Air Disinfection Device
The Scientific Air S400 is a powerful air disinfection tool for all-day air and infection control management in all types of rooms—from accident and emergency (A&E) to waiting areas.
This hospital-grade air filtration device eliminates up to 99.9995% of viruses while neutralising bacteria, spores and mould. It can remove non-viable particles, odours and volatile organic compounds (VOCs) in a standard 22-m3 room in minutes.
---
What kind of pathogens will this help you eliminate?




---
As the exclusive distributor of the S400 Portable Air Disinfection Device in Europe, Medline provides a direct line to this high-performance healthcare solution.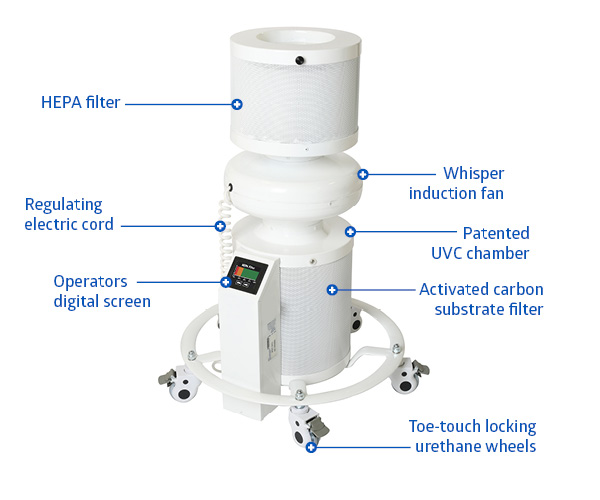 Benefits and features
Safe and fast: The device cleans the air in a room in minutes, at a rate of 11.33 CMM (cubic meter per minute) and keeps going 24/7. Your environment will be safer in a shorter period with the help of simultaneous high-capacity high-efficiency particulate air (HEPA) filtration, UVC pathogen elimination, and carbon cleansing.
Lab-tested efficacy: The S400 has a virus elimination rate of up to 99.9995%. These viruses include the airborne norovirus surrogate virus (one of the most difficult to eliminate). It is a proven solution for protecting your patients, staff, visitors and organisation.
Compact, mobile and easy to use: This long-lasting robust machine is easy to set up, maintain and move (via toe-touch locking wheels), and is equipped with a digital screen for immediate air quality reporting. You get added convenience and efficiency in one purchase.
Value priced with a full warranty: With this solution, you get a powerful device priced at a third of the cost of similar high-CMM air purifiers—with guaranteed superior whole-room disinfection. In addition, you get free one-year warranty renewal with yearly maintenance of the performance of the kit replacement (to be replaced yearly). However, this is limited to five consecutive years.
---
Learn more using the following resources:
Video overview of the cutting-edge air disinfecting technology
Evidence
Review testing and evidence data on the Scientific Air Management website.
---