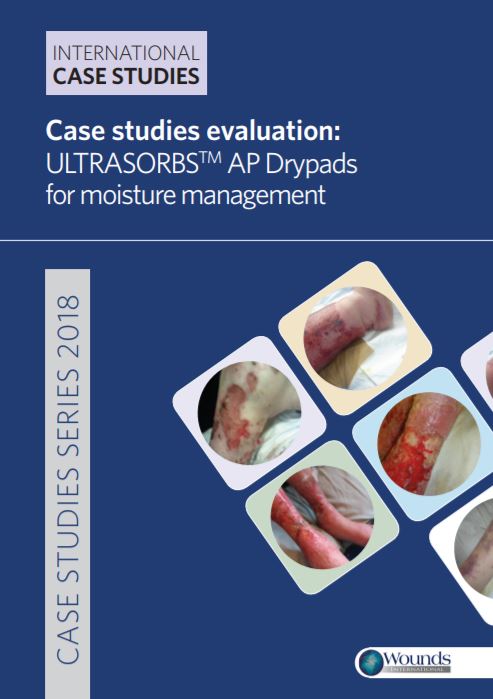 Moisture-associated skin damage (MASD) describes the spectrum of damage that occurs because of prolonged exposure of a patient's skin to perspiration, urine, faeces or wound exudate. When the skin is exposed to excess amounts of moisture, it can soften, swell and become wrinkled. Some individuals, the elderly in particular, have a reduced ability to rid themselves of excess heat, resulting in additional skin warming. These changes to the microclimate of the skin in conjunction with excess moisture can result in skin maceration.
The ULTRASORBS AP Drypad is an ultra-soft, non-woven, multi-layer breathable and, disposable sheet designed for effective moisture management. The drypad contains a super-absorbent polymer, which locks away wetness and odour leaving the sheet dry to the touch and comfortable against the patient's skin. It can be used with a variety of mattresses and bed configurations to provide waterproof protection.
A recent study conducted in the United Kingdom and Germany showed that Medline's ULTRASORBS AP Drypad was an effective solution for managing moisture. In this study, five individuals ranging in age from 55 to 94 were given an ULTRASORB AP Drypad. Prior to the ULTRASORBS AP Drypad, the facilities in Germany and the UK were using absorbent hospital gauze, towels and incontinence pads to manage excess moisture, albeit unsuccessfully, leading to multiple bed linen changes, additional laundering costs and patient discomfort. In all cases, the patients commented on the drypad's soft feeling on the skin, while the clinicians reported a decrease in skin maceration and an improvement in the overall condition of the skin.
The study found that in all five cases, the ULTRASORBS AP Drypad effectively managed moisture better than previously used products. Apart from increased patient comfort and clinical benefits, the ULTRASORBS AP Drypad contributed to a significant reduction in bed linen changes The ULTRASORBS AP Drypad is one of the most innovative products on the market, and it is a cost-effective way to successfully manage moisture and prevent MASD.
Request the Ultrasorb case study below.
Medline takes data protection seriously. We respect your privacy and will not share your contact details with third parties.Click here to read more about Medline's privacy policy.