Minimise Moisture™: A Local Quality Improvement Initiative for Raising Awareness of Moisture-Associated Skin Damage (MASD)
30 th September 2021
We are excited to confirm Julie Tyrer, Tissue Viability Nurse Consultant at Liverpool Heart and Chest, NHS Foundation Trust, is set to present her new 'Minimise Moisture' initiative for raising awareness of moisture-associated skin damage (MASD) during the next Harm Free Care Network online meeting.
#stopavoidableMASD
Title: Minimise Moisture: A Local Quality Improvement Initiative for Raising Awareness of Moisture-Associated Skin Damage (MASD)
Date: Thursday, 30 September 2021
Time: 12 - 1pm (BST)
Duration: 1 hour

Register now!
Please complete the form below to register for the upcoming Harm Free Care Network session on the Minimise Moisture initiative for the prevention of MASD.
---
What is Minimise Moisture™?
Watch this short video for an overview.
---
What will Julie cover in the session?
Julie will outline a quality improvement initiative, which she led in her Trust, called 'Minimise Moisture'.

She will talk about the journey of its planning and implementation, some of the challenges and solutions and lessons learned, as well as share advice on how to implement this or similar initiatives in your organisation.

Throughout the course of the session, Julie will make reference to national drivers and current literature relating to the prevention and management of MASD.
#stopavoidableMASD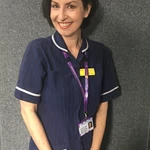 Julie Tyrer
Tissue Viability Nurse Consultant
Julie has worked as Tissue Viability Nurse Consultant for the last 3 years and prior to this as Tissue Viability Nurse (TVN)—working as an advanced, autonomous practitioner, managing complex patients with tissue viability related issues, and providing expert knowledge. For the last 10 years, she has worked in the acute sector and in the 7 years before, as a community TVN. This has enabled Julie to experience different environments, care settings and associated challenges as it relates to tissue viability.
Julie has completed a Bachelor of Science in Healthcare Practice with Specialist Practitioner Qualification in Tissue Viability and a Master of Science in Professional Clinical Practice. She continuously works to develop the service to ensure improvements in patient care and consistent high-quality care. Julie has written and published several articles relating to pressure and moisture-associated skin damage, and skin under personal protective equipment (PPE).
Minimise Moisture™ is a registered trademark of Liverpool Heart and Chest Hospitals NHS Foundation Trust.