Why #EndPJparalysis Matters Now More Than Ever
25 th May 2021
We are excited to confirm that Professor Brian Dolan OBE will lead a session on #EndPJparalysis at the next UK Falls Prevention Network (UKFPN) meeting.
Title: Why #EndPJparalysis Matters Now More Than Ever
Date: Tuesday, 25 May 2021
Time: 9:00am BST
Duration: 1 hour
Contact: Neil O'Halloran,
Clinical Lead - Falls Prevention,
Medline Industries
Email: [email protected]
---
Join our webinar!
Professor Brian Dolan OBE is the creator of the globally recognised #EndPJparalysis Campaign, along with #Last1000Days.
He is also: Director of the UK-based development consultancy, Health Service 360; Visiting Professor of Nursing at the Oxford Institute of Nursing, Midwifery and Health Research; and Honorary Professor of Leadership in Healthcare at the University of Salford.
Recently, he and Lynda Holt, Chief Executive Officer of Health Service 360, co-hosted the 72-hour #EndPJparalysis Global Online Summit—in collaboration with the Royal College of Surgeons of Ireland, Emergency Care Improvement Support Team (ECIST), NHS Horizons, Johns Hopkins School of Medicine in Baltimore, USA, #everyBODYmoves, and Safer Care Victoria in Australia.
---
Falls Awareness Week 2021
#ThinkFalls #FallsAwarenessWeek
We will also preview the 2021 Falls Awareness Week campaign, including a review of the new materials available. Many of these materials focus on supporting the prevention of deconditioning in acute and community settings.
Falls Awareness Week will run from 20 – 26 September. A free digital campaign pack will soon be available for download, so you have plenty of time to plan your local activities.
Keep an eye on your inbox and Twitter.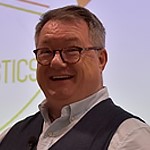 Professor Brian Dolan
OBE, FFNMRCSI, FRSA, MSc (Oxon), MSc (Nurs), RN
Professor Brian Dolan has a near 40-year career as a clinician, academic, educator, senior leader and innovator. His interests and roles have focused on health systems reform, patient flow, clinical redesign, leadership and cultural change.
With a clinical background in both mental health and emergency nursing, he is Director of an award-winning consultancy (Health Service 360, UK) and works in the UK, New Zealand, Australia and Ireland. He also has a long-term contract with Canterbury District Health Board, NZ as Director of Service Improvement and is currently co-leading the I-CARE leadership programme for 125 nurse unit managers and 30 nurse leaders in the Central Adelaide Local Health Network.
Brian is Visiting Professor of Nursing at the Oxford Institute for Nursing, Midwifery and Allied Health Research (OxINMAHR) and Honorary Professor of Leadership in Healthcare, Salford University. He has authored >70 papers and seven books, mainly on emergency nursing and leadership.
In 2018, he was voted one of the top 20 most influential people in the history of the National Health Service (NHS) in the UK. In the 2019 'New Year's Honours List', Her Majesty the Queen appointed him Officer of the Order of the British Empire (OBE) 'For services to nursing and emergency care'. Also in 2019, he was elected Fellow of the Faculty of Nursing and Midwifery at the Royal College of Surgeons in Ireland.